Dinis vintage merry go round for sale is a very popular amusement horse ride. And you can call it antique carousel too. When it come to vintage merry go round playground, it usually refers to large and luxury horse rides. Dinis vintage merry go round horses for sale have complete specifications. At the same time, we offer special customized orders. That is to say, we can customize different types of merry go round old style according to your requirement. If you are planning to build a merry go round antique mall, welcome to buy Dinis old merry go round for sale. Email me for detail price list please.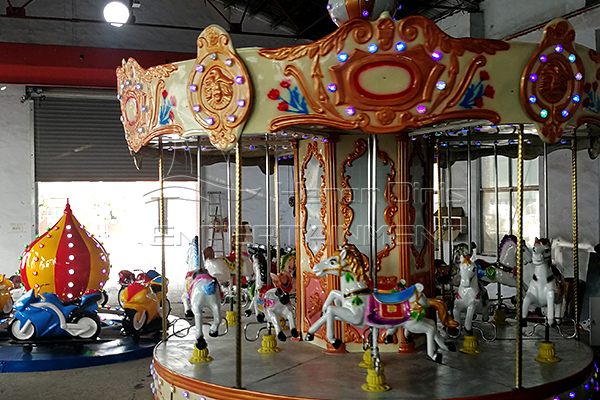 The differences between merry go round antiques and ordinary carousel
Large and vivid pony model. Vintage merry go round for sale is usually a kind of luxury amusement equipment. And the biggest difference between ordinary horse is the horse design. The horses of ordinary merry go round are usually cute and cartoon. However, the vintage merry go round horse is large and vivid, it is more resemble with the real horse.
Wonderful riding experience. And the whole design has a sacred sense of solemnity. When passengers sitting on the vintage carousel merry go round, as if returning to ancient times. Give people a magical experience through time and space, so it is very popular among kids and adults.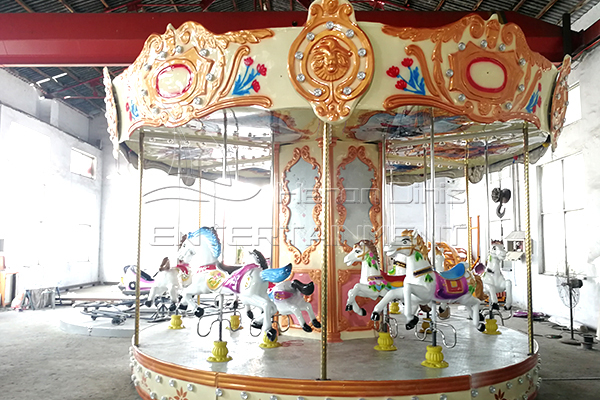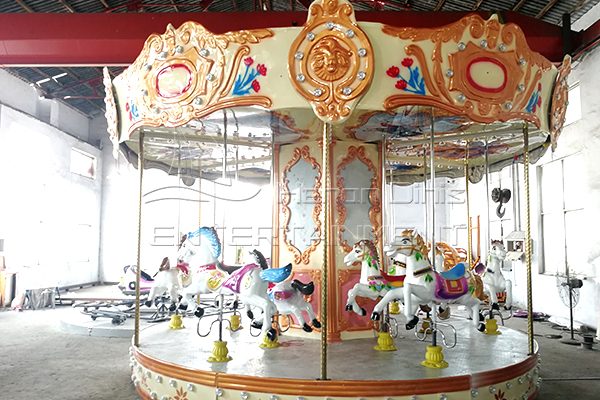 Dinis charming and top sale Christmas vintage merry go round toy for sale
Christmas is coming, that means a long and carnival holiday is waiting for all of us. In order to meet the market demand, we Dinis designed and produced a new style Christmas vintage merry go round horse. This old fashion merry go round with attractive Christmas scenery like reindeer and Christmas ornaments. Such as Christmas balls, Christmas ribbon and colorful Christmas lights. All these novel designs make people love it at first glance. And the old-style merry go round for sale is a family ride, it allows the whole family ride together. It will certain become the best memory during the carnival holiday.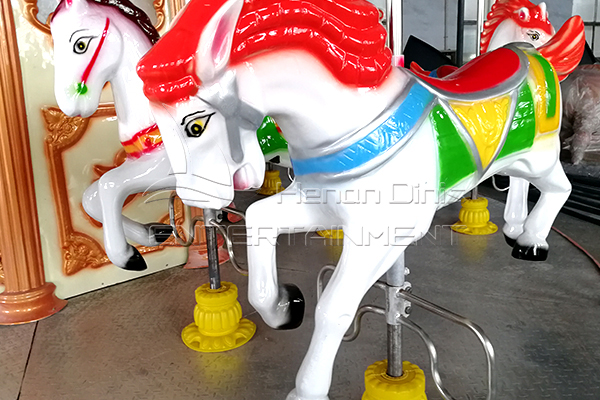 The novel design animal antique merry go round for sale is available in Dinis
Large and vivid animals. Dinis animal vintage merry go round for sale is resemble with ordinary animal carousel. Both of them have vivid and big animals, such as ostrich, hippo, tiger, rabbit, deer and so on.
Unique pony model. The ordinary animal carousel pony is very cute and cartoon, however. However, the vintage animal merry go round horse has large and vivid animal figures. When passengers sitting on the device, it just like visiting a moving zoo. Children's love for animal seems to be inborn, no one can resist the beauty of the antique horse.
Customized services. And the animal merry go round pony shape can be customized according to your preference. That means you can have an animal merry go round fully cater to your demand. We Dinis quality customized service can complete satisfy you.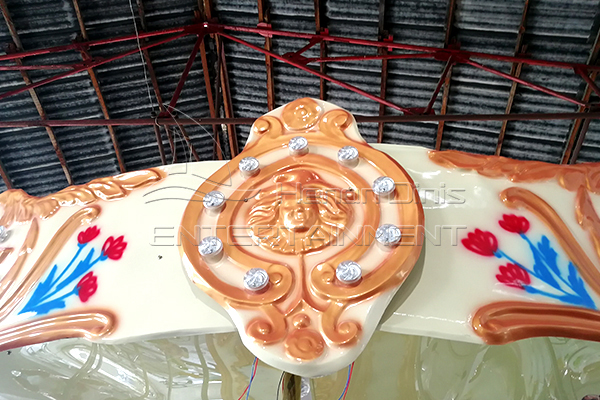 Where can you find an antique merry go round horse?
In fact, carousel merry go round has become a must-have amusement equipment for playground. And you will find that as long as it is a densely populated place, there are at least one or two carousels. So, you can find a vintage carousel merry go round everywhere. Such as parks, playgrounds. Children's palace, plaza, community, shopping mall and so on. To some extent, the luxury merry go round can improve the grade of the installation location. A shopping mall with a luxury vintage merry go round horse may appeal more people. And a park or scenic spot may be famous for its large vintage merry go round. So, the vintage carousel merry go round is very popular among passengers and investors. So, it has become the hot selling amusement products in 2020.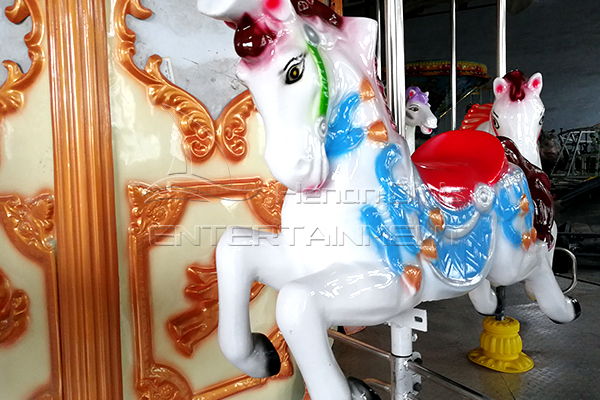 Why should you choose Dinis amusement rides company?
Professional manufacturer. With the rapid development of the amusement industry, you have more choices for amusement suppliers. However, Dinis will be your best business partner, why? Because we Dinis is a professional merry go round manufacturer with 15 years.
Excellent workers with high quality. Under the support of a number of excellent R&D personnel and skillful technical workers, products of our company are popular with all customers at home and abroad. All our products have complete specifications, appropriate designs and good quality.
Customized services. Meanwhile, we offer various customized services. Whether it is a carousel specification or the theme design style, we can customize it according to customer requirements.
Company purpose and goal. And our tenets are "survive by good quality, develop by high reputation". "quality first, customer supreme". So, you can buy our products with confidence.
Dinis own factory. We Dinis has our own factory , and we warmly welcomes friends from all over the world to come to visit our factory. We are sincerely seeking reliable business partners and buyers.
Competitive price. All our amusement rides are factory direct sale, there is no the third part fee, that will save a lot cost for you. So, the price is lower than our peer. You can compare with other suppliers.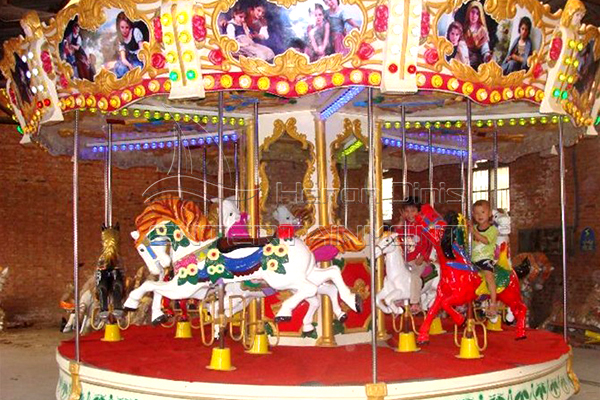 Christmas month- 20% off for all our merry go round horse and other rides
Christmas carnival holiday is on the way, in order to give thanks to our old and new customers, we Dinis launched a promotion activity. All our products have discount price, that is to say, you can buy high products at lower price. So, please grasp this chance to buy our amusement merry go round as soon as possible. The sooner you buy a product, the sooner you earn money. Let you to have a real carnival Christmas holiday.
Carousel Horse Ride Technical Parameters Reference
| Seats Info | Occupied Area | Voltage | Power | Speed | Working Principle |
| --- | --- | --- | --- | --- | --- |
| 3 Seats | Φ1.5mx2m | 220v | 500w | 0.8m/s | Upper/Lower/Imitated Transmission |
| 6 Seats | Φ2.2mx2.5m | 220v | 800w | 0.8m/s | Upper/Lower/Imitated Transmission |
| 12 Seats | Φ4.8mx4.5m | 220v | 3kw | 0.8m/s | Upper/Lower/Imiation Transmission |
| 16 Seats | Φ5.5mx4.8m | 220v | 3.3kw | 0.8m/s | Upper/Lower/Imiation Transmission |
| 24 Seats | Φ7.5mx5.3m | 380v | 5kw | 1.0m/s | Upper/Lower/Imiation Transmission |
| 36 Seats | Φ8.5mx6m | 380v | 4kw | 1.0m/s | Upper/Lower/Imiation Transmission |