How to prove the high quality of Longines carousel?
The Longines Carousel, once endorsed by popular stars Lin Zhiling, Zhang Han and others, is a luxury commercial carousel customized by Dinis for Longines Watch Company. Starting in October 2017, exhibiting in various countries and cities in Asia within one year, such as Beijing, Shanghai, Hong Kong, South Korea, Chongqing, etc. Within a year, Longines Carousel has traveled across the sea to so many places. After many disassembly and installation, the equipment is still intact, which is the most effective evidence of the high quality of our products. We had a three-month communication and exchange with our clients before the deal was reached. The customer has submitted more than 20 customization requirements. Through the unremitting efforts of a group of excellent designers and professional technicians, they have fully met the requirements of customers. After the product is produced, the customer is very satisfied with the quality and service of our products.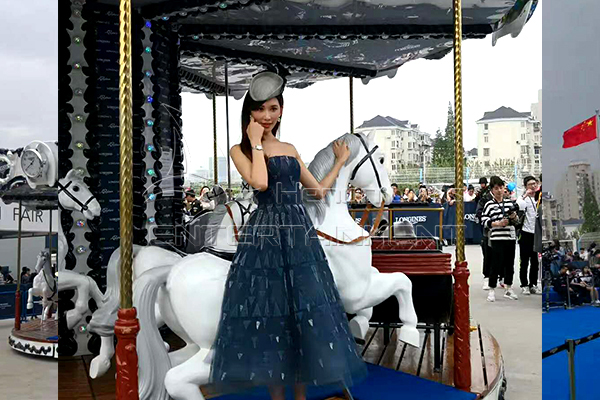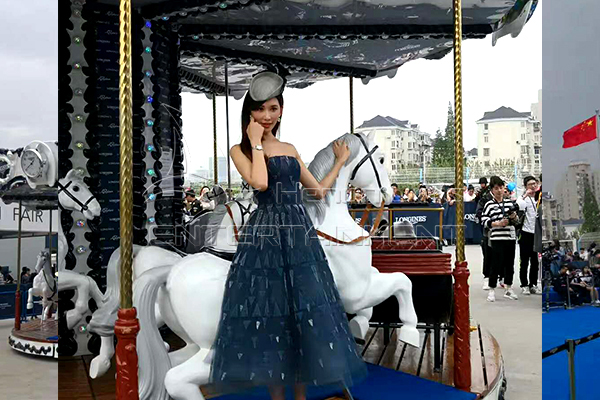 Careful maintenance makes Longines carousel a new look
The maintenance of the Longines horse was mainly placed on the painting of the equipment, and the equipment itself and the horses were not damaged. However, After many times of disassembly and installation, it is inevitable that there will be small friction, especially the welding problems of screws and interfaces. All the screws of the Longines are replaced with new ones. And Longines carouse belong large and luxury merry go round, and all the horse carousel ornaments are very exquisite. After the maintenance, the carousel ride are bright new.