When it comes to simple carousel, it usually refers to 3/6/9 small carousel or simple mobile carousel. Dinis simple merry go round for sale has complete specifications for you to choose from. And the price is very affordable, while the turnover is very optimistic. So, it has always been the best cost-effective investment product. And it is very suitable for mobile business, such as circuses, temple fairs, fairs, etc. Because it is easy to disassemble and move, it is very popular with investors. Except the complete specifications, we Dinis can also customize special order according to your requirement. Whether it is the specification of the equipment or the theme decoration style, our excellent designers and professional technicians can meet your requirements. It will definitely create a carousel device that fits your preferences. You can buy Dinis carousel horse rides with confidence.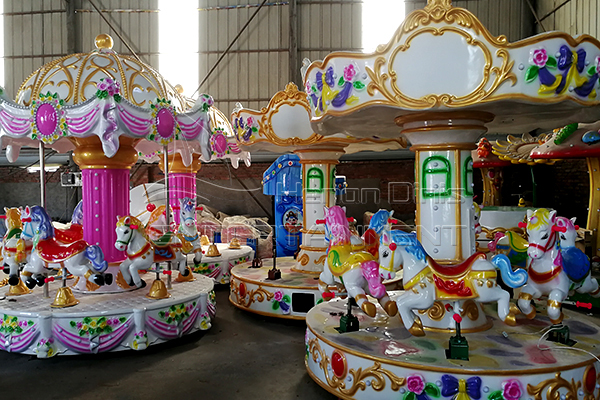 Kids favorite and reasonable fruit simple merry go round is available in Dinis factory
Beautiful appearance with cute fruit. This kind of simple carousel horse is full of beautiful fruits, such as apple, banana, strawberry, pineapple. Grapes and so on. These colorful and lovely fruit design will attract the attention of children very easily. And they will love it at first glance.
Attractive single fly eave. The device of the fruit simple rotating carousel is simple single flying eave with many cute fruits on it. All these fruits with smile face, some of them even wear sun glass. All these designs make the device very attractive for kids.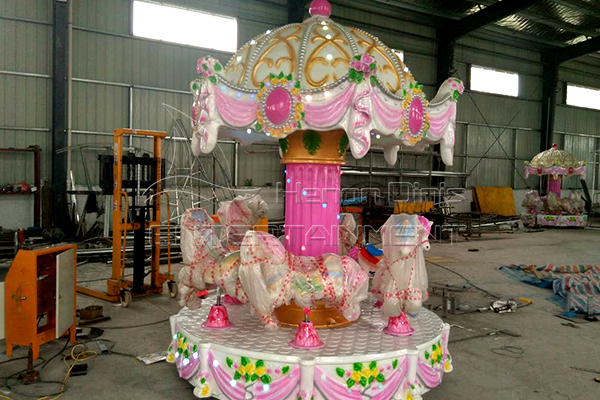 Unique fruit cake styling carriage. Fruit cakes may be the favorite dessert for kids. Our Dinis designer started from the child's preferences, and creating a simple carousel fruit cake carriage for the children. No kids can resist the beauty of the simple carousel device.
Wonderful riding experience. Sitting in the carriage and listening to the beautiful music, the children seem to be attending a fruit platter party, and they are the protagonists of the party. There is no doubt that this will give children a magical feeling of extraordinary.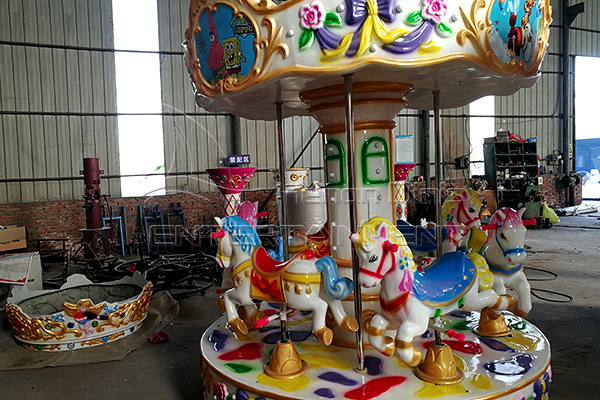 Popular and hot selling green animal simple mobile carousel is available in Dinis manufacturer
Unique and fresh theme color. The theme color of the device is fresh green. This color is environmentally friendly and fresh, and people will fall in love with it at first glance. Equipped with colorful LED light and beautiful music, the whole device is so attractive for both kids and adults.
Novel and cute animal models. Except the beautiful fresh color, the most attractive of the device is the animal design. It is different from the ordinary carousel, the pony shape of the simple animal carousel used different lovely animals. Such as giraffes, zebras, lions, squirrels, rabbits, etc.
Irresistible attraction. Children's love for animals seems to be innate, so it is conceivable that the cute animal shape is so attractive to children. Therefore, since this new spinning carousel has been put on the market, it has been well received by passengers and investors. So, it will be your best investment product.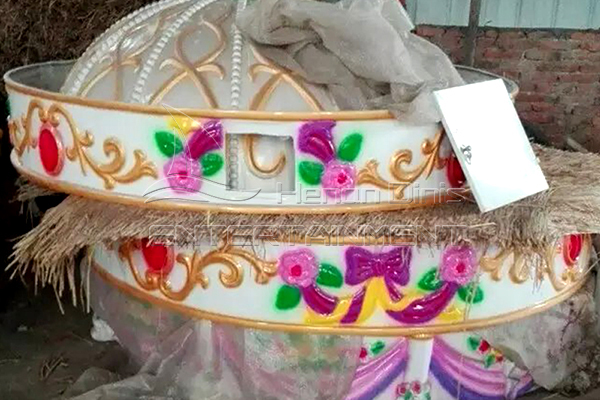 Very simple carousel small octopus rotating merry go round is available in Dinis
Distinctive carousel top design. This kind of simple merry go round is very different from other carousel merry go round. Usually, the carousel's ceiling is a beautiful conical umbrella shape, but this simple ocean carousel is a simple flat top, but the highlight is that there is a beautiful and lovely big octopus on the top.
Unique marine life mount. This kind of small octopus rotating horse is famous for its unique ocean life mount. Our excellent designer used seahorses, sea lions and sea turtles replace the ordinary pony shape. These cute marine animals will definitely be favored by children. Because these animals are not only cute but also very colorful, it seems that no one can resist beautiful and colorful object. Let alone little kids.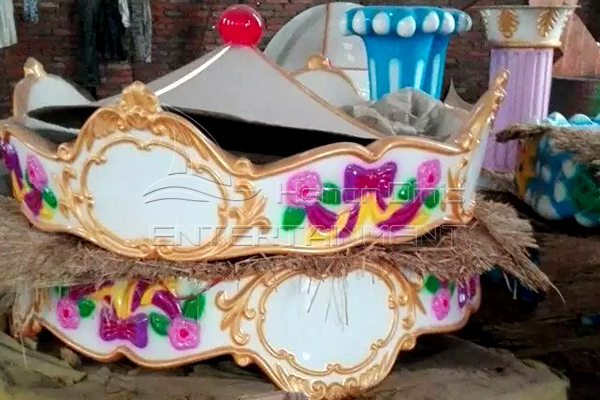 Why is the simple carousel the best investment product?
Low cost but high turnover. The price of simple rotating carousel is the lowest among so many kinds of carousel merry go round rides. Almost everyone can accept the price. However, the turnover is very attractive. Because all Dinis simple turning horse is of high quality and beautiful exterior. It is the best cost-effective investment products.
Easy to move and maintain. For the operator, the biggest advantage of the simple carousel is that it can move freely. Especially for those mobile operators, it allows you to operate in different places.
Get net income soon. Due to its low cost, you will get the net income very soon. That is to say, if your budget is not very enough, you can choose the simple carousel first, and when you get the net income and accumulate a certain amount of funds, you can choose invest other amusement rides. Then you will get richer and richer.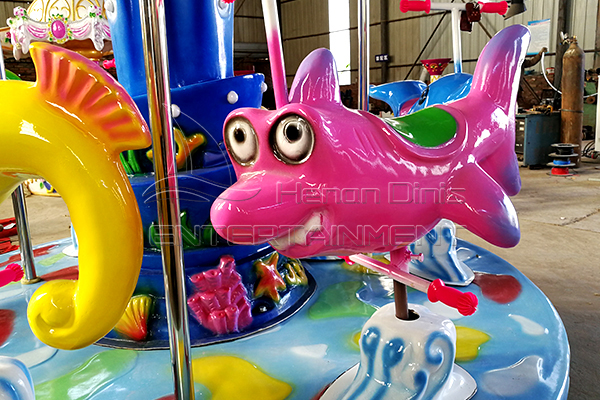 Why should you choose Dinis simple carousel?
Professional manufacturer. Dinis is a professional manufacturer with 15 years' experience. And all our products are popular at home and abroad. So, there is no need to worry about our quality of products. Because we have a number of excellent R&D and skillful technical workers to support the quality and technical of products.
Strict quality control. Our workers have strictly controlled the quality of the products. During the production process, whether it is finished or semi-finished, they are all carefully checked and tested to ensure that each product can be safely used by that customer.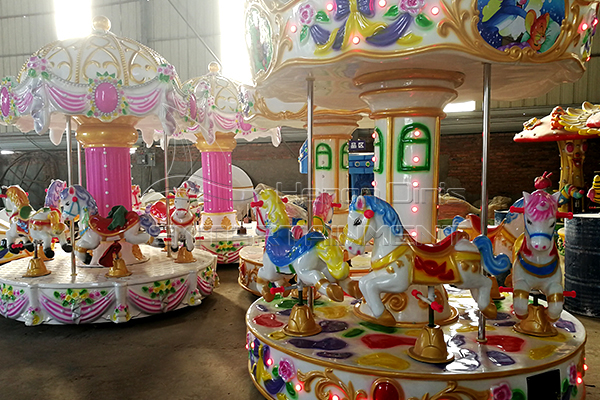 Complete certificate. How to confirm the company's corporate qualifications? Definitely a series of the most authoritative certificates. Dinis is a reliable and trustworthy company. We have a business license, patent certificate for design and CE etc. These certificates guarantee the export of our products to countries and cities around the world.
Competitive price. We Dinis has our own factory, and all the amusement rides are factory direct sale. That is to say, there is no the third part fee, it will help you save a lot of cost. So, our price is lower than our peer's price. You can compare it by yourself. And if you want to buy a carousel simple machine, welcome to visit our factory, you can know how to make a simple carousel. what's more, we can make simple carousel that complete according to your requirements.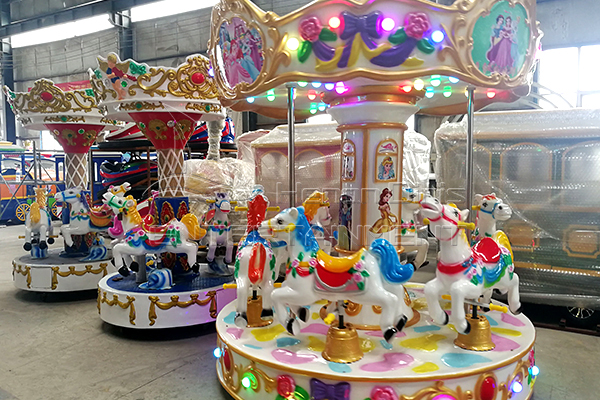 The timeliest shipment and delivery. We are not only providing high quality products, but also the timeliest transportation. Ensuring that customers put their products into operation in the shortest possible time, so that we can bring more revenue to customers.
Carousel Horse Ride Technical Parameters Reference
| Seats Info | Occupied Area | Voltage | Power | Speed | Working Principle |
| --- | --- | --- | --- | --- | --- |
| 3 Seats | Φ1.5mx2m | 220v | 500w | 0.8m/s | Upper/Lower/Imitated Transmission |
| 6 Seats | Φ2.2mx2.5m | 220v | 800w | 0.8m/s | Upper/Lower/Imitated Transmission |
| 12 Seats | Φ4.8mx4.5m | 220v | 3kw | 0.8m/s | Upper/Lower/Imiation Transmission |
| 16 Seats | Φ5.5mx4.8m | 220v | 3.3kw | 0.8m/s | Upper/Lower/Imiation Transmission |
| 24 Seats | Φ7.5mx5.3m | 380v | 5kw | 1.0m/s | Upper/Lower/Imiation Transmission |
| 36 Seats | Φ8.5mx6m | 380v | 4kw | 1.0m/s | Upper/Lower/Imiation Transmission |