Merry go round carousel for sale is a kind of popular amusement rides, and another name for merry-go-round carousel is rotating or spinning horse rides. You may wander the difference between merry go round and carousel. Is a merry-go-round and a carousel the same thing? In fact, they are fully the same amusement rides, they just have different name. Dinis merry go round has fully complete specifications, and we also offer special customized services. Whether it is the merry go round theme or size of the carousel can be customized according to your needs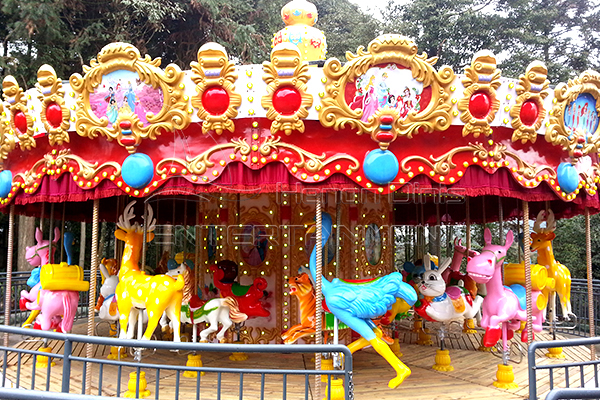 What is a merry go round or carousel?
Dinis merry go round carousel for sale is a popular amusement rides, but what is the definition of them? And what is the history of carousel merry go round? Merry go round or carousel is a popular playground play game. That is to say there are many ponies on a large rotating platform. And the pony shapes are usually horses or the other animal model. The most novel feature is the ponies can move up and down at the same time. The earliest recorded carousel appeared in the Byzantine Empire. While the first steam-driven carousel appeared in Europe in about 1860. Nowadays, there are various carousels in various game fields, shopping malls and other places.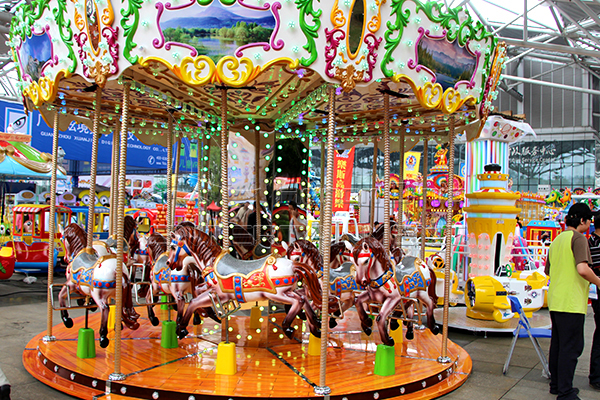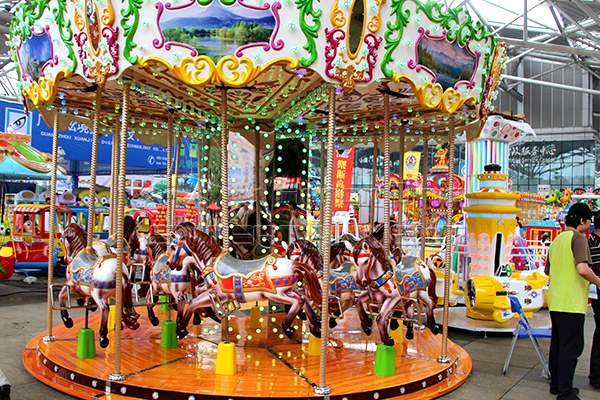 How to build quality merry go rounds?
Dinis is a professional merry go round manufacturer with 15 years experiences. And our products have appropriate designs and good quality. Then, how to build a good quality merry go round? First of all, the product material must have high quality, then the workers must have professional skills. We Dinis have a number of excellent R&D personnel and skillful technical workers. And our tenets are 'survive by good quality, develop by high reputation'. Thus, our products are popular with all customers at home and abroad.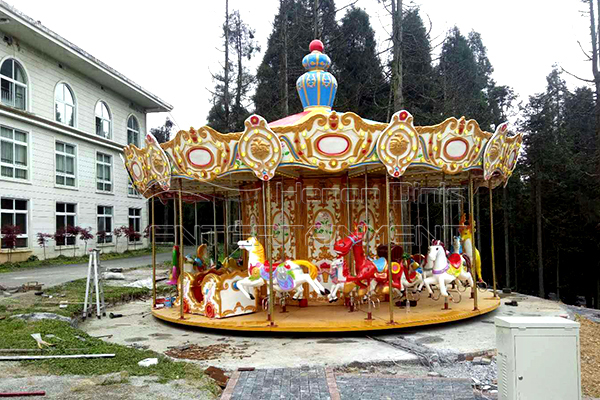 How does a merry go round work?
According to the different working principle, merry go round with seats includes electric merry go rounds and coin operated merry go round? And both of them are very easy to operate. Electric roundabout has an electrical control box with many buttons on it. Such as start button, stop button and lighting control buttons. When the device is full of passengers, you just need to press the start button. And you can press the stop button at any time to stop the machine. While the coin operated merry go round is more convenient for the investors. It can even save labor, because the passengers can start the device by themselves. Passengers just need to put a coin into the machine, then the rotating horse will start to work. Someone may also wonder that does a merry go round turn clockwise or counterclockwise? In fact, merry go round goes clockwise!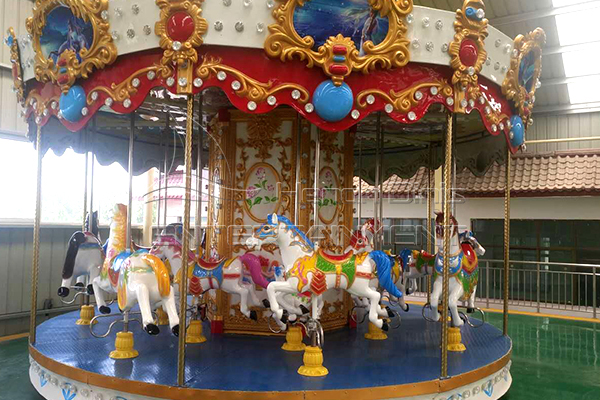 Dinis large 36 seats animal merry go round carousel for sale
Through market research, Dinis continues to develop new products to meet people's preferences. 36 seats animal merry go round is the top sale product of 2018. Because this type merry go round fully caters to children's preference. Kids' love for animal seem to be inborn, animal merry go round is different from ordinary flying horse. It contains 36 kinds of cute animal models. Such as deer, rabbits, tigers, ostriches, hippos and so on. These vivid animals are very attractive for children. When the passengers ride on the merry go round, they just like visiting a moving zoo. Since we developed this animal carousel, it is very popular. Customer feedback is very good, so it has become the most popular ride product this year.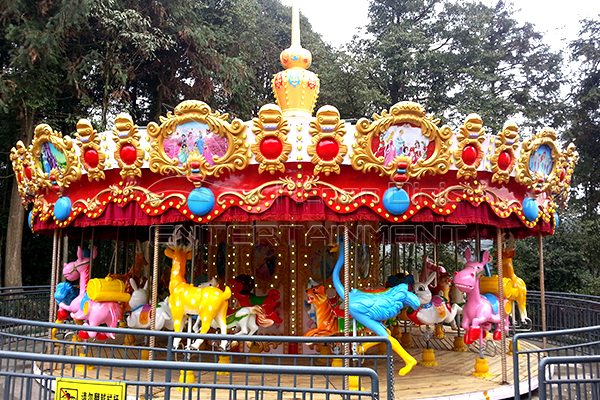 Christmas is coming, in order to meet the need of market, we Dinis launched a new style Christmas merry go round. And this kind of new merry go round is very attractive. Christmas merry go round carousel for sale with Christmas scenery, such as reindeer and Christmas ornaments. This beautiful design is very popular among children, and you can install it in both indoor and outdoor. In fact, merry go round is a kind of family rides, it allows the whole family take a ride together. During the carnival festival, you and your friends or family ride on a merry together. It will definitely become the best memory of each other. This merry go round equipment is so popular that has become the top sale of 2018.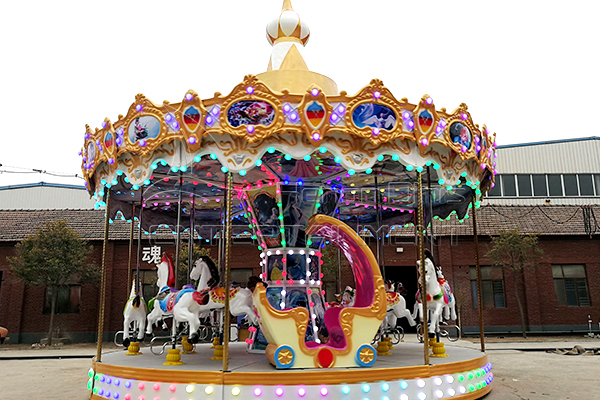 Dinis novel design ocean merry go round carousel for sale
Dinis ocean merry go round carousel for sale is very popular among children. This device has simple single eave with cute mermaid and starfish on it. The theme color is blue, this fresh color makes people very memorable. And the most novel designs are the pony shape and the merry go round decorations, which is very different from ordinary carousel. The ordinary merry are usually horse shapes, while the ocean machine is cute marine animals. Such as sea horses, hippos and shells, these beautiful designs make the whole device more vivid and attractive. Not only do children like it, but parents also difficult to reject its beauty.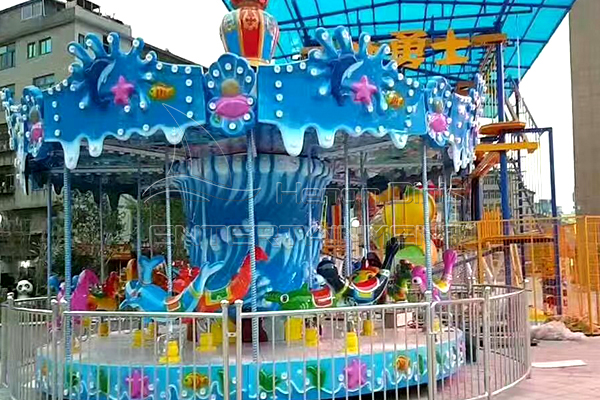 How much is a merry go round ride for sale?
When you ask me the price of merry go round carousel for sale. I will ask what your budget is. Because we can customize merry go round according to your budget. If your budget is not high, we can introduce small and simple horse rides for you. While if your budget is pretty enough, we will introduce large and luxury amusement equipment for you. In fact, when you choose amusement products, you should not only consider the price. Only cost-effective product is good investment goods. And December is our promotion month, you can get high quality products at low price. So, there is no need for you to worry about the price. You just need to grasp this chance, take the merry go round carousel as soon as possible.
Where can I buy a merry-go-round carousel horse for sale?
When you plan to buy amusement rides, you are certain to compare different suppliers. That is a good habit for you to do so. First you can search online to know something about the products and suppliers, then you can go to visit the factory site to know more details. And when you compare the merry go round price, you should consider the product quality and service as well. The price of some product is very low; however, the quality is very poor too. Because they are not profession merry go round suppliers and their products has no certificates. When you operate the amusement rides business, it will bring you so many problems. The safety of amusement equipment and passengers is closely related, so you cannot ignore it. We Dinis is a professional merry go round company with 15 years experiences. So, we will be you best business partner.
Carousel Horse Ride Technical Parameters Reference
| Seats Info | Occupied Area | Voltage | Power | Speed | Working Principle |
| --- | --- | --- | --- | --- | --- |
| 3 Seats | Φ1.5mx2m | 220v | 500w | 0.8m/s | Upper/Lower/Imitated Transmission |
| 6 Seats | Φ2.2mx2.5m | 220v | 800w | 0.8m/s | Upper/Lower/Imitated Transmission |
| 12 Seats | Φ4.8mx4.5m | 220v | 3kw | 0.8m/s | Upper/Lower/Imiation Transmission |
| 16 Seats | Φ5.5mx4.8m | 220v | 3.3kw | 0.8m/s | Upper/Lower/Imiation Transmission |
| 24 Seats | Φ7.5mx5.3m | 380v | 5kw | 1.0m/s | Upper/Lower/Imiation Transmission |
| 36 Seats | Φ8.5mx6m | 380v | 4kw | 1.0m/s | Upper/Lower/Imiation Transmission |