Dinis fiberglass carousel for sale has complete specifications, such as 3/6/12/16/24/36 seats carousel horse rides. At the same time, we Dinis company can also customize special orders according to your requirements. The famous Longines carousel is we Dinis customized for Longines Watch Company in 2017. And the customer is very satisfied with the device, from the color to decoration, customer had more than 20 customized items. Through the effort of our excellent R&D and skilled technical works, we have fulfilled the requirements of our customers one by one. So, you can buy Dinis carousel horse with confidence, you are sure to choose a satisfied amusement carousel ride.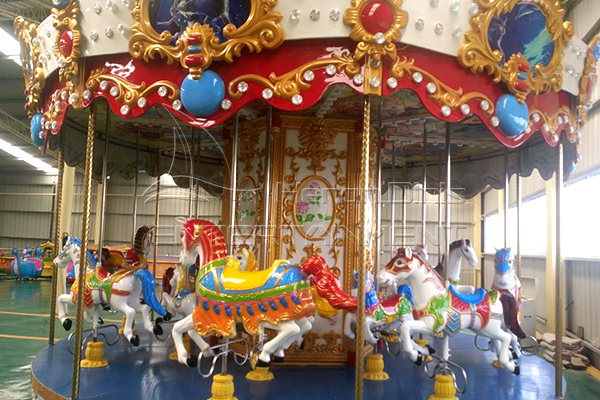 The outstanding features and advantages of Dinis fiberglass carousel horses for sale
When it comes to the characters of fiberglass carousel horse for sale, we should first know what the fiberglass is. From its literal meaning, many people think that it is a kind of glass or steel, but in fact it is neither glass nor steel, it is actually a high-quality plastic. Because it also has a scientific name fiber reinforced plastic, which is our common abbreviation FPR. What are the characteristics and advantages of this special material? Let us discuss it together.
Environmentally friendly material. FRP carousels are non-toxic and tasteless environmentally friendly products, so you can buy with confidence, there is no need to worry about the harm to the environment or children.
Safe and secure amusement rides. The FRP Carousel is not only environmentally friendly, but it is also a very safe ride for children. Because it is a non-stimulus amusement device, uniform speed and stable running speed. Thus, the parents can feel free to take the child to ride.
Good corrosion resistance. FRP is a good anti-corrosive material with good resistance to atmospheric, water and general concentrations of acids, alkali, salts and a variety of oils and solvents. Therefore, investors do not have to worry that the product will be damaged in the wind and the sun.
Have good design-ability. According to the needs, we can flexibly design various structural products to meet the requirements of use, which can make the products have good integrity.
Excellent craftsmanship. The molding process can be flexibly selected according to the shape, technical requirements, use and quantity of the product. These special features can meet the customization requirements of customers.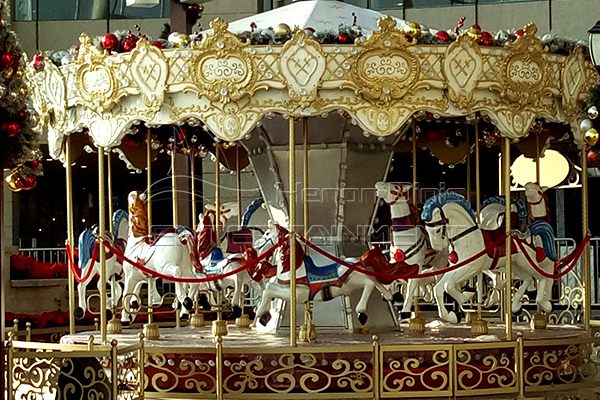 Modern popular mini carousel fiberglass horse can be purchased in Dinis manufacturer
Dinis mini carousel horse ride has 3 seats and 6 seats merry go round device, this kind of small fiberglass carousel horse for sale have many distinctive features as follows.
Easy to install and maintain. Due to its small size, it is very convenient for investors to disassemble and install, and it is also easier to maintain. You can even repair it by yourself when there is something wrong with it. Of course. we also offer lifelong repair service.
Beautiful and attractive appearance. Dinis small FRP carousel has a beautiful design and a cute and vivid shape, which can easily attract children's attention.
The most cost-effective product. The cost of miniature fiberglass carousel horse for sale is not high, however, the income is very optimistic. You will get the net income in a very short time. So, it is a good investment amusement ride. If you like it, please feel free to get a free quote.
Unique and interesting start mode. Mini fiberglass carousel horse for sale includes two different style devices. That is electric carousel and coin operated carousel horse ride. The later has a unique start mode, it just need the passenger put the coin into the machine, then, the device can start moving. Which can save labor of the investor, so, it is very popular among both passengers and investors.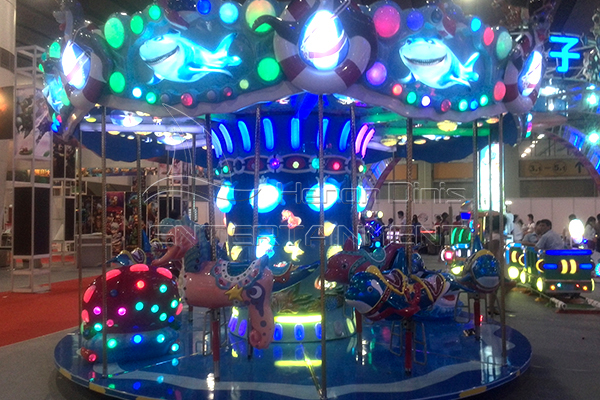 Amusement park electric fiberglass carousel horse is available in Dinis
When it comes to electric carousels, it is relative to coin-operated carousels. The electric carousel has a separate electric control box with a number of switches and buttons, such as switch button that controls the start and stop of the device, light control button, music button, voice button, bell button, and so on. It means that all operations are on the electrical control box. This is very easy for the operator to operate. It is also very convenient for passengers to ride because the equipment can be started and stopped at any time, which allows passengers to stop or start their own ride.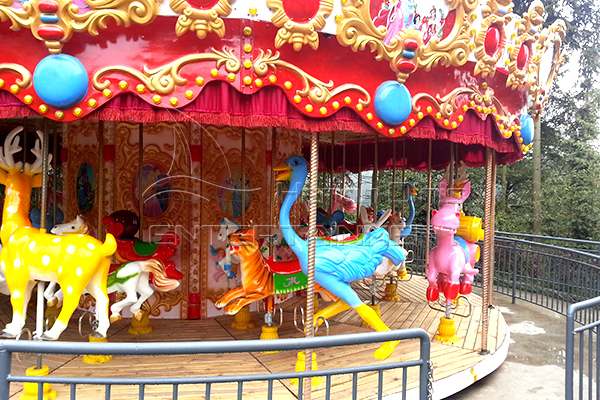 Luxury 24 seats zoo fiberglass carousel horse for sale
Luxury carousel is always very popular among investors, because it is very favored by both kids and adults. So, the income is very rich, it is also a very good investment product. Because No matter where this luxurious device is placed, it can always be the focus of all the amusement rides. Because everyone is attracted to his fascinating look. The luxurious FRP carousels are usually beautiful double flying eaves, and the decorative design is more beautiful than the ordinary carousel, which gives a strong visual impact, and no one can reject its beauty. And to some extent, the appearance of a luxury carousel will increase the level of the venue. People will like somewhere because they like the carousel there.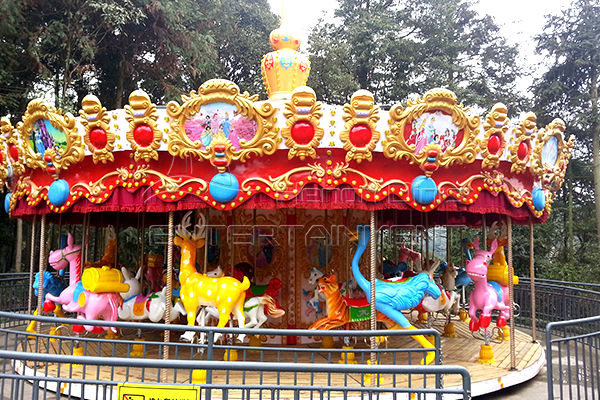 China produced Dinis outdoor playground fiberglass carousel merry go round for sale
Outdoor playground is always a magic place for kids. In the outdoor playground, the children play together, make games, make friends, and get close to nature, where the children learn to be polite and modest. This is why many parents are willing to take their children to play in the outdoor playground. The outdoor playground FRP Rotary Trojan is also famous for the same reason. And fiberglass carousel horse for sale is a family amusement ride. It allows the whole ride together. Parents and the kids can have a happy parent-child time. Dinis is the leader in the Chinese amusement industry with 15 years production and sale experiences. Our company has a group of outstanding R&D designers and experienced technical workers. Our products enjoy high reputation both at home and abroad.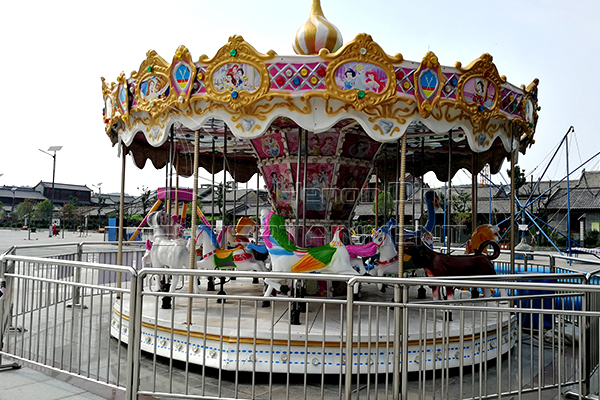 Why should you choose to buy Dinis fiberglass carousel horse for sale?
Factory price. We Dinis amusement company has our own factory, that is to say all our products are factory direct sale. There is no third-party fee, thus the price is more competitive than the peer's price.
Quality guaranteed carousel. The quality of all our products is in full compliance with the national standards for amusement equipment. We also have all relevant certificates to allow export to any country.
The timeliest delivery. Dinis not only provides high quality products but also provides the timeliest delivery and transportation. Ensure that customers put their products into business in the shortest possible time. This will give customers income earlier.
Professional manufacturer. Dinis amusement company is a professional manufacturer with 15 years production and sale experience. You can buy our products with confidence. And we have our own factory, welcome you to visit our factory.
Carousel Horse Ride Technical Parameters Reference
| Seats Info | Occupied Area | Voltage | Power | Speed | Working Principle |
| --- | --- | --- | --- | --- | --- |
| 3 Seats | Φ1.5mx2m | 220v | 500w | 0.8m/s | Upper/Lower/Imitated Transmission |
| 6 Seats | Φ2.2mx2.5m | 220v | 800w | 0.8m/s | Upper/Lower/Imitated Transmission |
| 12 Seats | Φ4.8mx4.5m | 220v | 3kw | 0.8m/s | Upper/Lower/Imiation Transmission |
| 16 Seats | Φ5.5mx4.8m | 220v | 3.3kw | 0.8m/s | Upper/Lower/Imiation Transmission |
| 24 Seats | Φ7.5mx5.3m | 380v | 5kw | 1.0m/s | Upper/Lower/Imiation Transmission |
| 36 Seats | Φ8.5mx6m | 380v | 4kw | 1.0m/s | Upper/Lower/Imiation Transmission |