Large carousel horses for sale. And the large carousel is an essential amusement ride for parks, shopping malls and playgrounds. Zhengzhou Dinis Amusement is a large-scale manufacturer with 15 years of experience in the manufacture of amusement equipment. Our products are various and offer special customized service according to customer's requirements. So if you are considering buying amusement rides, please contact us in time.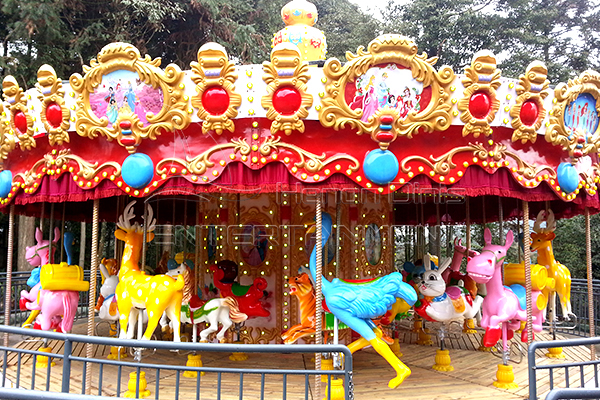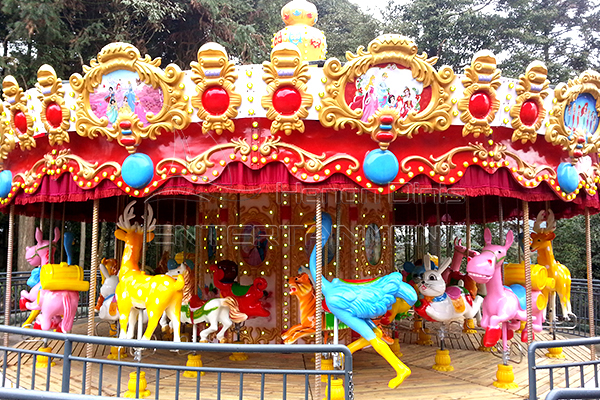 36 seats carousel amusement ride for sale
This equipment is a large-scale amusement ride. The device has 36 different ponies that allow 36 people to ride at the same time. The equipment is a twin-flying eaves carousel, elegant and beautiful. The carousel has charming lighting, and when it runs under the night, the lights are dazzling and beautiful. with the gentle music, visitors feel warm and sweet! In addition to large carousel horse, our company has other specifications. Welcome new and old customers to visit our company.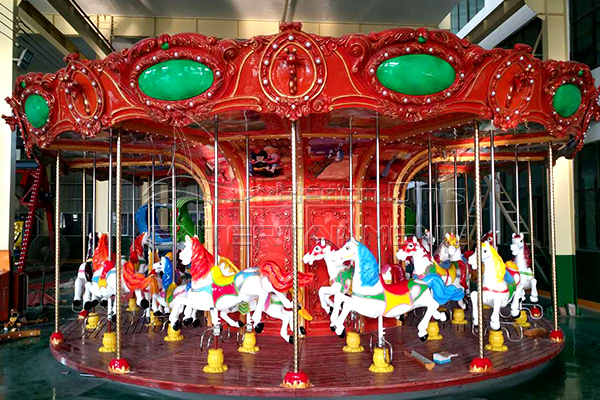 Big European and American style carousel ride for sale
This kind of carousel is a new amusement equipment, and the appearance is luxurious! The horses are larger than the average carousel, so both kids and adults can have a ride. This style of horse is very attractive, the blue and white appearance is more beautiful and vivid!
The design style of the carousel
The overall shape is more harmonious and beautiful! The quartz watch on the cornice makes it stand out among the other horses! Our big carousel is an adjustable shifting device. You can adjust the rotation of the horse and the ups and downs. In addition, the slow start at the beginning of the horse which can well protect the safety of the children while riding the horse.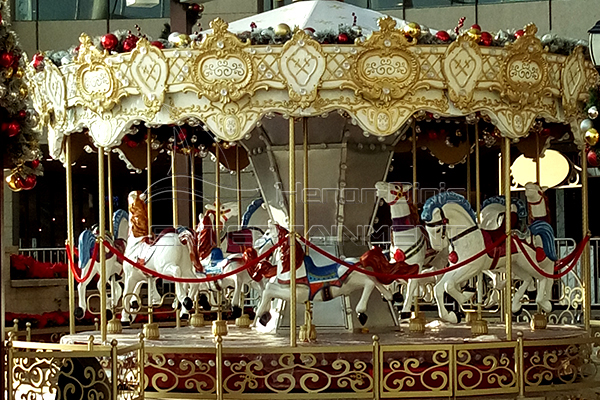 Large ocean Carousel rides for sale
This amusement equipment is a big luxury carousel with a unique shape. The theme of marine animals is blue and green. It stands out among the other carousels! This equipment is a luxury carousel and the most popular are 16 seats / 24 seats / 36 seats.
Distinctive features of ocean carousel
This kind of horse is very special. It is a sea-going carousel, fresh blue, which makes people like it at a glance. It is different from other styles of horses. Its bold shape and color design make people refreshed and unforgettable! The top of the horse is designed with a single eave, with mermaid, sand fish and seaweed on the cornice. The following pony uses vivid marine animal shapes, such as sea horses, sea fish, sea lions and other animals. Let your equipment be different from others forever! Such an unconventional and attractive amusement ride, don't you want it?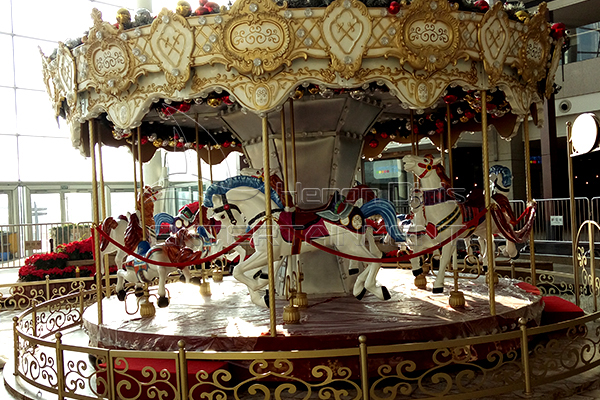 What should you consider when choosing a carousel?
First of all, the overall shape of the carousel horse is very important, because carousel is a kind of non-stimulative amusement ride. It mainly relies on its beautiful appearance, charming lights and sweet music to attract people. If the product can attract customers at a glance and give customers a good impression, then you will have a lot of repeat customers. Secondly, the overall quality of the carousel horse.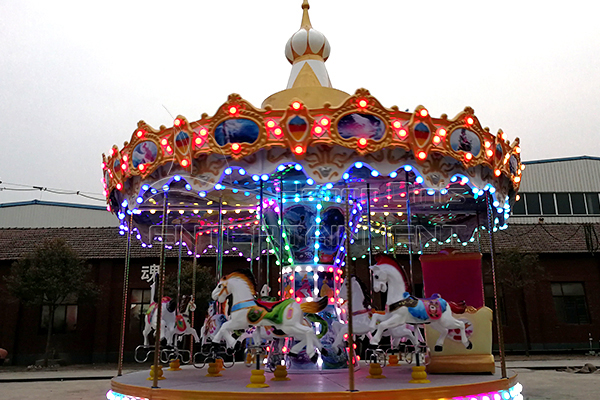 The choice of motor
This is the core of the whole carousel horse. If the motor is not up to the standard, it will not be qualified. If the carousel is full of passengers, it may not work properly. And If it is forcibly driven, the result is that the whole equipment will be broken. Of course, this is a very bad phenomenon for both customers and operators.
The selection of horse pole cage
It is necessary to use a full-cast steel bearing type horse-rod ball cage. Only the full-cast steel can ensure the effect of the ball cage without deformation. If it is a welded piece, After a long time, there will be a case where the welding spot is deformed. And the horse rod will be tilted accordingly. Even if the connecting rod has an adjustment function, it won't broken. The bearing type ball cage has a small contact area and a small friction force. It is very easy to drive.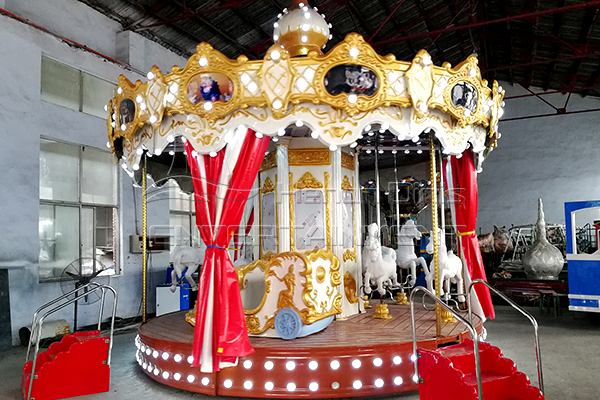 Choose qualified electrical accessories
If the electrical accessories are not from regular manufacturers, all aspects of the electric accessories won't reach indicators. Once the problem occurs, it will definitely affect the business of the operator.
The production qualification of manufacturer
If a manufacturer does not have the qualification for production, that means it does not have the corresponding document procedures. That is to say the carousel you purchased is a product without an ID card. This will be a difficult problem for the country's annual inspection of the amusement equipment industry.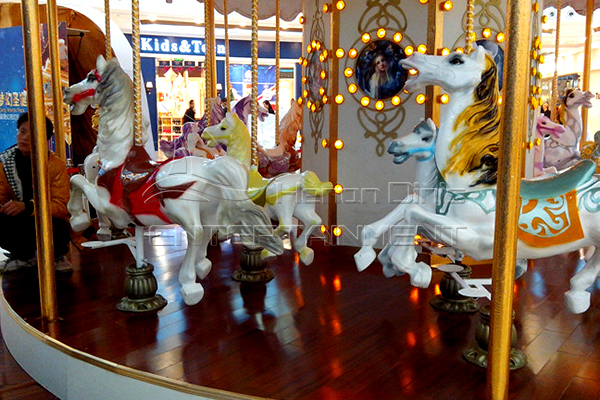 Pay attention to the quality of paint
Paint effect must be fresh, bright, light. As for glass fiber reinforced plastic products, only automotive special paint can achieve such an effect. If the paint effect is dull, workmanship is very rough. Under the conditions of the wind and sun, it will definitely fade. Because the preliminary work is not good enough, so the later effect must be very poor. The decoration of a horse is all about the FRP part, so this part must be fine, detailed and bright.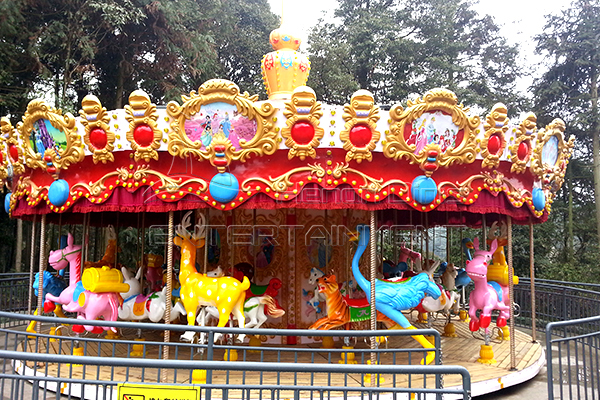 The advantages of Dinis company
Zhengzhou Dinis Amusement is a large-scale manufacturer with 15 years of experience in the manufacture of amusement equipment. The company's products are various in variety, and we also offer special customized service according to your requirements. At the same time, we can make design and plann according to your actual site.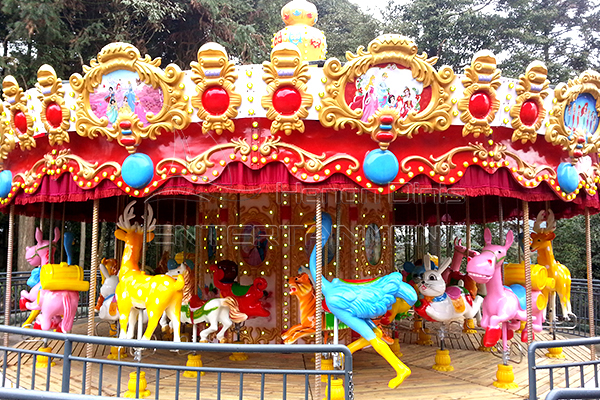 The materials of Dinis big carousel
Zhengzhou Dinis large carousel equipment for sale, it has luxurious appearance and bright colors. The pony body is made of FRP. the characteristics of FRP is environmental protection, safety, corrosion resistance and good stability. The appearance of finished product is very smooth. Therefore, the child will not scratch themselves while riding.
The features of Dinis big carousel
Dinis large sweet carousel has the characteristics of double fly eaves and single fly eave. But the double fly eaves has two layers of cornices. This design makes the carousel looks more gorgeous and beautiful. When the machine starts working, with the music, the pony group begin to danced. In the evening, under the illumination of the lights, it feels more like a dream.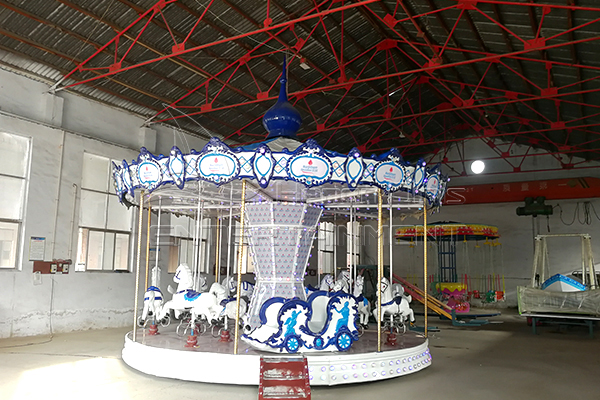 Dinis novel design and hot sale luxury large carousel horses for sale
It is said that the world's largest merry go round can ride hundreds of people. That must be quite spectacular. While the largest carousel in Dinis is 48 or 68 seats, which is quite luxurious. Dinis large carousel horse vintage themed is the most representative of carousel house large equipment. an antique carousel that's powered by a large electric motor undergoes constant angular acceleration. And the movement speed is very smooth and safe, so that both toddler babies and the older can have a ride. People love large carousel very much because its luxury and beautiful design style and decoration. No one can resist the beauty large carousel horses for sale. How about you?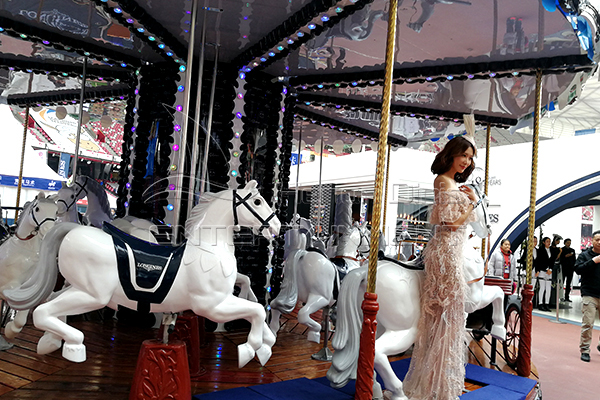 where can a guy get a large merry go round
If you are a business man, and want to buy a carousel horse large sized, then Dinis will be your ideal choice. Because we Dinis is a professional large merry go round manufacturer, we have different styles of large carousel in our factory. And the large carousel for sell can also be customized according to your references. Dinis large merry go round horse with beautiful appearance and novel design. You will love it at first glance.
If you want to have a ride on large merry go rounds for sale, then you will have more choice, because the large carousels for sale brand new can be found everywhere. Such as park, square, zoo, plaza, amusement park, shopping mall, and so on. If you and your family or friends have a large carousel horse ride on holiday together, that will definitely be your best memory. Isn't it?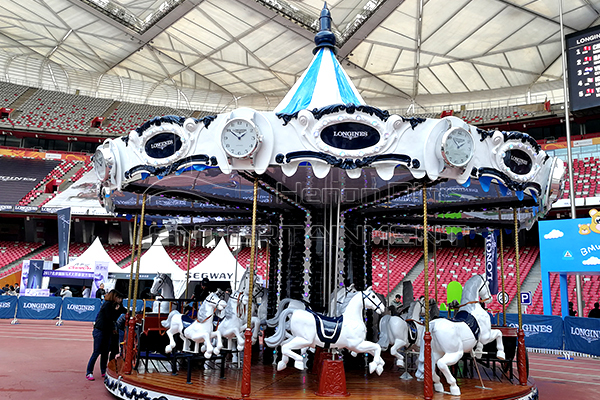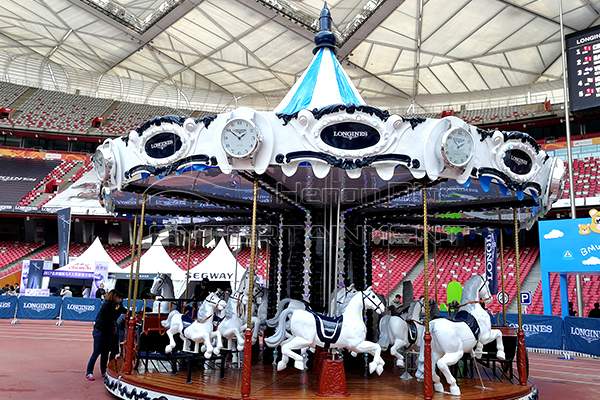 How much does a large carousel cost?
Dinis full size large course carousell for sale has many different size and styles. Generally speaking, the large size is more experience than the small size. And the top-drive large carousel merry go round noise is lower than the lower-drive large carousell. And it has so many advantages. But even very large carousel of Dinis brand is also sold in very reasonable price. Because we have our own factory, without the third fee, it will lower your cost. So, you can buy carousel horses for sale large in Dinis amusement company. We not only offer high quality large carousel rides, but also provide the excellent services.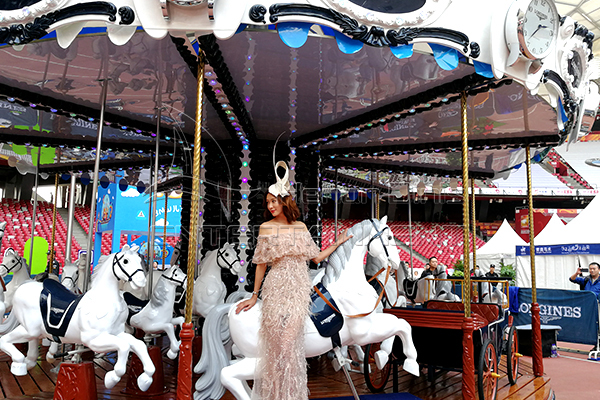 We look forward to your more consultation
If you are considering buying a large carousel, please contact us in time. In addition, Zhengzhou Dinis Amusement is a large and regular company with rich experience and a wide variety of products. Welcome to visit our factory. Now we are giving back to new and old customers, grand offers, and a large quantity. Looking forward to your arrival.
Carousel Horse Ride Technical Parameters Reference
| Seats Info | Occupied Area | Voltage | Power | Speed | Working Principle |
| --- | --- | --- | --- | --- | --- |
| 3 Seats | Φ1.5mx2m | 220v | 500w | 0.8m/s | Upper/Lower/Imitated Transmission |
| 6 Seats | Φ2.2mx2.5m | 220v | 800w | 0.8m/s | Upper/Lower/Imitated Transmission |
| 12 Seats | Φ4.8mx4.5m | 220v | 3kw | 0.8m/s | Upper/Lower/Imiation Transmission |
| 16 Seats | Φ5.5mx4.8m | 220v | 3.3kw | 0.8m/s | Upper/Lower/Imiation Transmission |
| 24 Seats | Φ7.5mx5.3m | 380v | 5kw | 1.0m/s | Upper/Lower/Imiation Transmission |
| 36 Seats | Φ8.5mx6m | 380v | 4kw | 1.0m/s | Upper/Lower/Imiation Transmission |