Dinis moving carousel for sale has other names, such as portable carousel or mobile carousel. Because it is small in size, thus the disassembly and assembly are simple and convenient. And the operation is safe and stable, both indoor and outdoor can operate flexibly. Dinis moving Carousel is very popular among investors for its unique and humanized design concept. and the most popular moving carousels are 12 seats, 16 seats and 24 seats. Of course, we also offer specific customize services according to your requirements.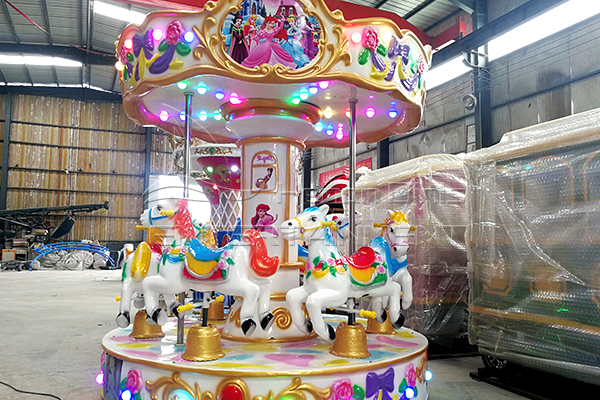 3 types of popular moving carousels are available in Dinis
In fact, you can move all the carousel, but some devices are easy to move and other devices are difficult. From the perspective of easy movement, these roughly contains three types: small carousels, simple carousels, and folding carousels.
Dinis small and cute carousel for sale
Moving carousel for sale usually refers to 3-seat or 6-seat spinning horses. Dinis mini-turned horses are very popular among investors because of their small size. Also because of its small size, it is ease to install and maintain. At the same time, it has a wide rang of usage, such as supermarkets, parks, communities, squares and other amusement parks. According to the working principle, there are coin-operated mini-horse and electric mini-horse. Both of them are beautiful in appearance, and because of its low cost and high quality, small carousel has always been the hot-selling product.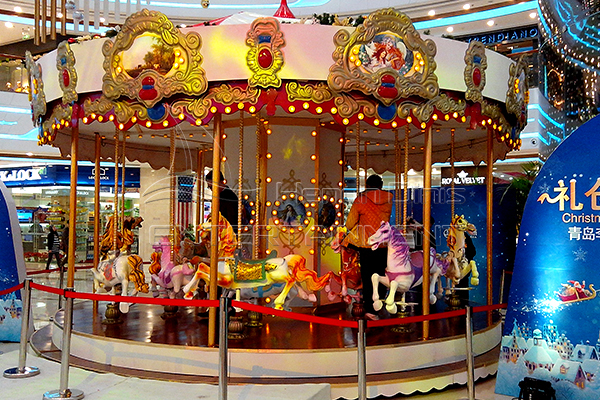 Hot selling simple carousel in Dinis
simple carousel is a kind of amusement equipment that is very suitable for mobile operation. And Dinis moving carousel for sale is simple in design with music, and the pony model upgrades from single horse to a variety of animals. Such as tigers, ostriches, and deers. And there are a variety of shapes to meet the needs of customers.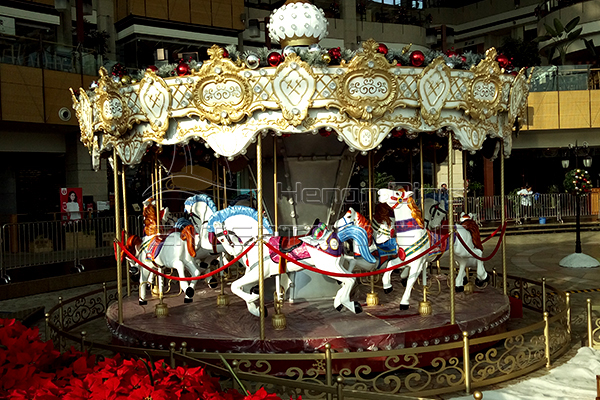 The most convenient moving folding carousel.
Dinis folding moving carousel for sale is a kind of mobile carousel design, and it is a new product after the simple carousel. There are two types of folding carousels, one is ordinary folding, and the other is folding carousel with wheels. The difference is that ordinary folding spinning horses need to be loaded and pulled after folding. However, the folding carousel with wheels are more easily to pull. It is the wheels that make transportation and movement more convenient. And a moving carousel is also very beautiful and attractive, the moving carousel ornament is very exquisite. Which will make kids love it at first glance.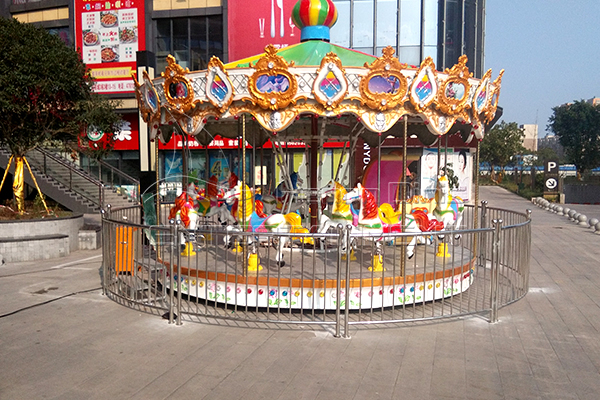 How to make a moving carousel model with Christmas theme?
Christmas is coming, in order to meet market demand, Dinis has designed and produced a moving Christmas carousel. What are the main features of the mobile Christmas carousel? And how to make a moving Christmas carousel?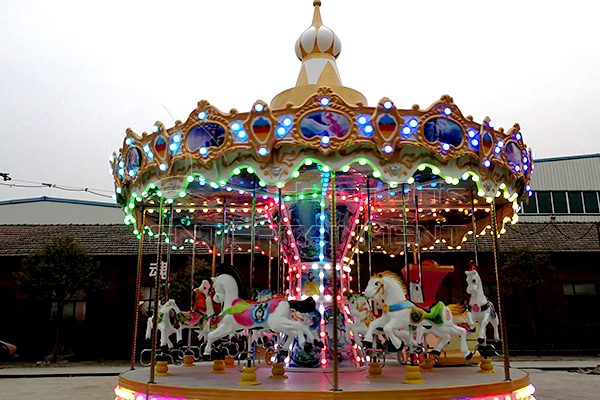 Christmas decoration lights up Christmas carousel
Let's start with the mini 3 and 6 horses carousels. We used Santa's sleigh and deers to replace pony and carriage, and these designs gave the whole carousel a Christmas atmosphere. Then, let's talk about the simple Christmas carousel and the folding Christmas carousel. Because the folding horse is also a simple horse, so we can refer both of them as simple Christmas carousels. First of all, Dinis made the Christmas carousel umbrella into the shape of a Christmas hat. The color also chose the same red color as the Christmas hat, and the horse and the hanging horse pole were also full of Christmas decorations.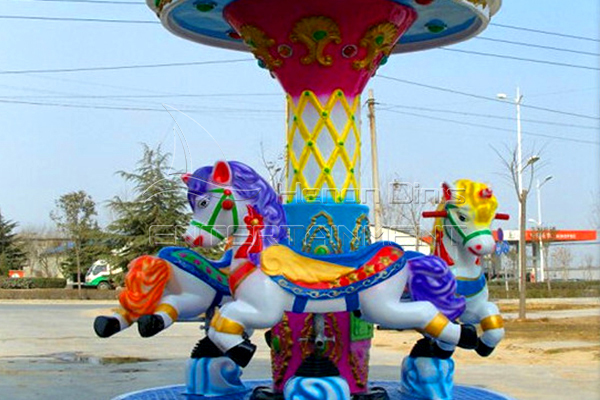 How to select your moving carousel rides at a low cost?
No matter what product you buy, there are many things to consider. This is especially true when buying investment products, so how do you choose a very satisfactory product?
According to your budget
First of all, the cost of the mobile carousel is not high. As an investor, you can customize the most ideal product according to your own budget. If your budget is not high, you can completely customize a 3-seat mini-turn horse. The investment of 3 carousels is very low, but the return is very fast. You can get net income in about half a year. When you have accumulated your first bucket of gold, you can consider buying a bigger carousel.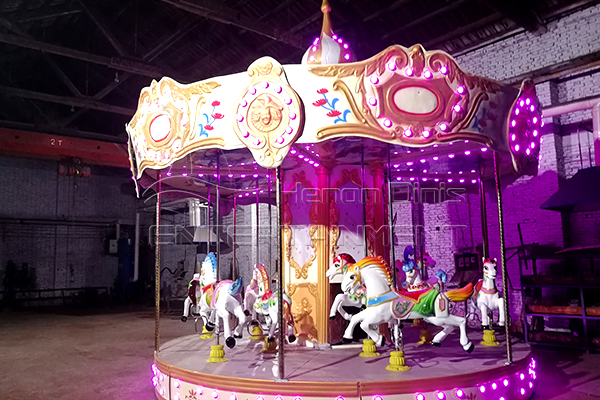 According to your way of doing business
If you plan to operate in a mobile, then there is no doubt that folding horses are your best choice. Because you don't have to worry about installation and disassembly issues. Especially the folding carousel with wheels, allowing installation and disassembly on the same day.
Why choose to buy Dinis movable carousel and is this a wise investment?
As a businessman, the first thing to consider is the profit problem. As the saying goes, investment is risky and needs to be cautious. But investing in a mobile carousel absolutely does not have to worry about profit. It is definitely a correct investment, the following are the detail reasons.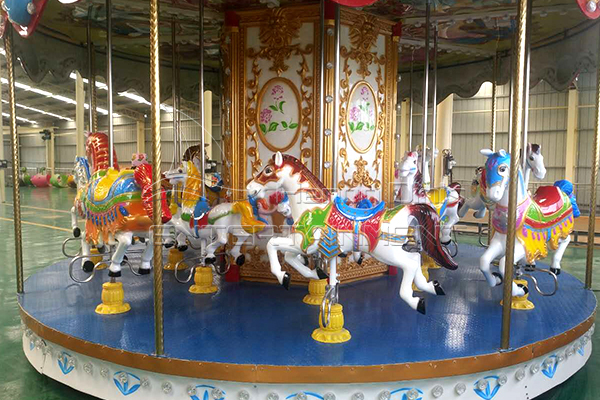 Low cost but high profit of mobile carousel
First of all, the cost of a mobile carousel is not high, and anyone can afford it. At present, people's living standards have been greatly improved, people pay more attention to the spirit of entertainment. Parents also pay more attention to the investment of children. Under normal circumstances, as long as the child asks, parents will agree. And the carousel ride is very safe for kids, but kids should climb up and down the horse when the carousel not moving. And carousel has no age limit, both the baby or the elder can have a safe ride.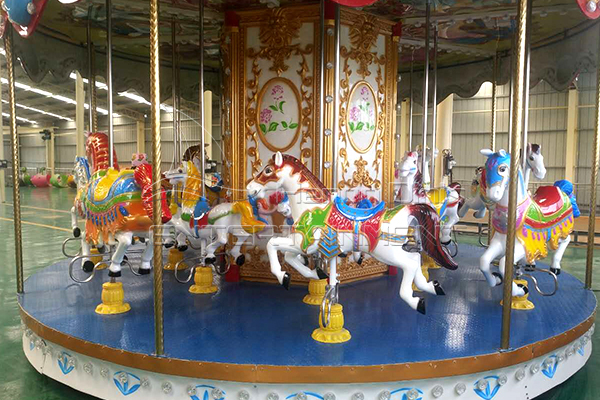 Parents prefer children to ride a carousel
The carousel has never been less attractive to children and even adults. And the carousel is a professionally designed for children. Compared to other stimulating rides, parents prefer children to ride a carousel. Because it is safer than other thrilling amusement rides, so you will find as long as there is a carousel, there are always a lot of people waiting in line to have a ride. Thus the income is quite considerable.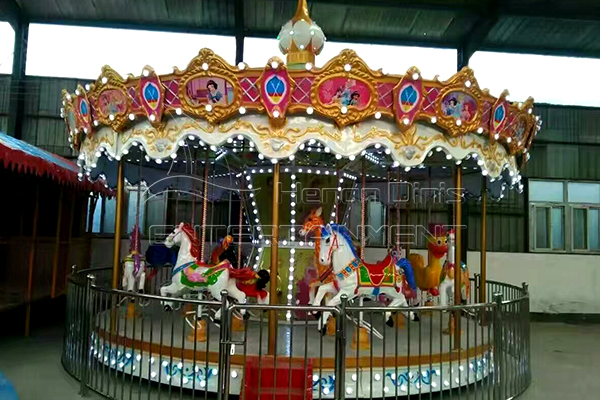 Dinis quality pre-sales and after-sale service
Zhengzhou Dinis Amusement Equipment Factory specializes in the production of children's play equipment. The style of the horse can be customized according to the requirements of investors. We also provide free consultation and perfect service. Our factory equipment provides one-year warranty, free replacement parts (except for wearing parts) during the warranty period. And the cost of accessories can be charged beyond the warranty period.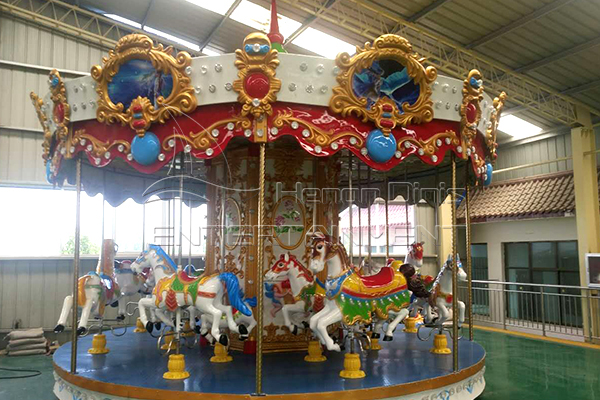 A wide range of customized services
Whatever moving carousel do you want, Dinis can customize to you. Dinis can customize a product that will satisfy you according to your budget and usage. Whether it is the most popular Christmas horse or the most convenient folding horse, you can customize it according to your requirements. The only thing you have to do is to buy it home, the sooner you buy, the sooner you get profit.
Carousel Horse Ride Technical Parameters Reference
| Seats Info | Occupied Area | Voltage | Power | Speed | Working Principle |
| --- | --- | --- | --- | --- | --- |
| 3 Seats | Φ1.5mx2m | 220v | 500w | 0.8m/s | Upper/Lower/Imitated Transmission |
| 6 Seats | Φ2.2mx2.5m | 220v | 800w | 0.8m/s | Upper/Lower/Imitated Transmission |
| 12 Seats | Φ4.8mx4.5m | 220v | 3kw | 0.8m/s | Upper/Lower/Imiation Transmission |
| 16 Seats | Φ5.5mx4.8m | 220v | 3.3kw | 0.8m/s | Upper/Lower/Imiation Transmission |
| 24 Seats | Φ7.5mx5.3m | 380v | 5kw | 1.0m/s | Upper/Lower/Imiation Transmission |
| 36 Seats | Φ8.5mx6m | 380v | 4kw | 1.0m/s | Upper/Lower/Imiation Transmission |